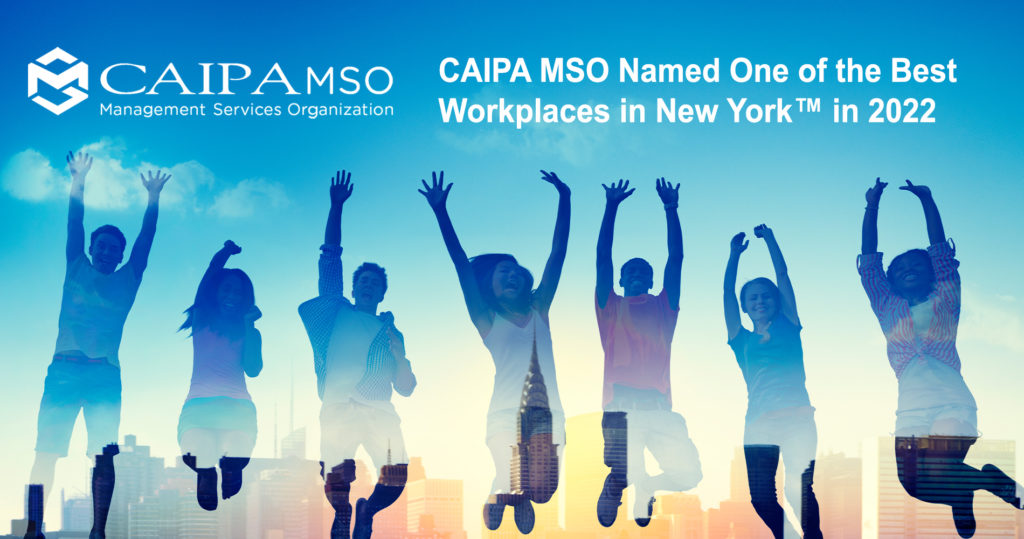 CAIPA MSO named one of the Best Workplaces in New York™ in 2022 by Great Place to Work® and Fortune Magazine
New York, NY June 29, 2022– Great Place to Work and Fortune magazine have honored CAIPA MSO as one of this year's Best Workplaces in New York. This is CAIPA MSO's first time being named to this prestigious list, and that means CAIPA MSO is one of the best companies to work for in New York.
This year's Best Workplaces in New York award is based on employee feedback collected through America's largest ongoing annual workforce study of over 1 million employee survey responses and data from companies representing more than 6.1 million U.S. employees. In that survey, 93% of CAIPA MSO's   employees said CAIPA MSO is a great place to work. This number is 36% higher than the average U.S. company.
 "I am so grateful for the dedicated team members at CAIPA MSO who have made us a part of this," said CAIPA MSO CEO Peggy Sheng. "There is no doubt that we are one of the best work places because of our team members so I want to thank them for everything they do."
The Best Workplaces in New York list is highly competitive. Great Place to Work, the global authority on workplace culture, selected the list using rigorous analytics and confidential employee feedback. Companies will only be considered if they are a Great Place to Work-Certified™ organization and headquartered in the New York metropolitan statistical area. 
"As employee demands and expectations have dramatically changed over the past year, these companies have risen to the occasion—and it's not been easy," said Kim Peters, executive vice president of global recognition, research & strategic partnerships at Great Place to Work. "Their hard work and dedication to listen to and care for the well-being of every employee, and support them in a way that's meaningful to all, is the standard all organizations will be held to."

About CAIPA MSO
CAIPA MSO is a management services organization specialized in delivering cost-effective solutions and high-quality services to reduce administrative burden so our healthcare clients can focus on patient care. As a Great Place to Work-Certified company, we not only aim high to deliver first-class services to our clients, we care for our team members and equip them with the right tools to develop and succeed.
Want to grow your career at a company that puts its people first? Visit our careers page.