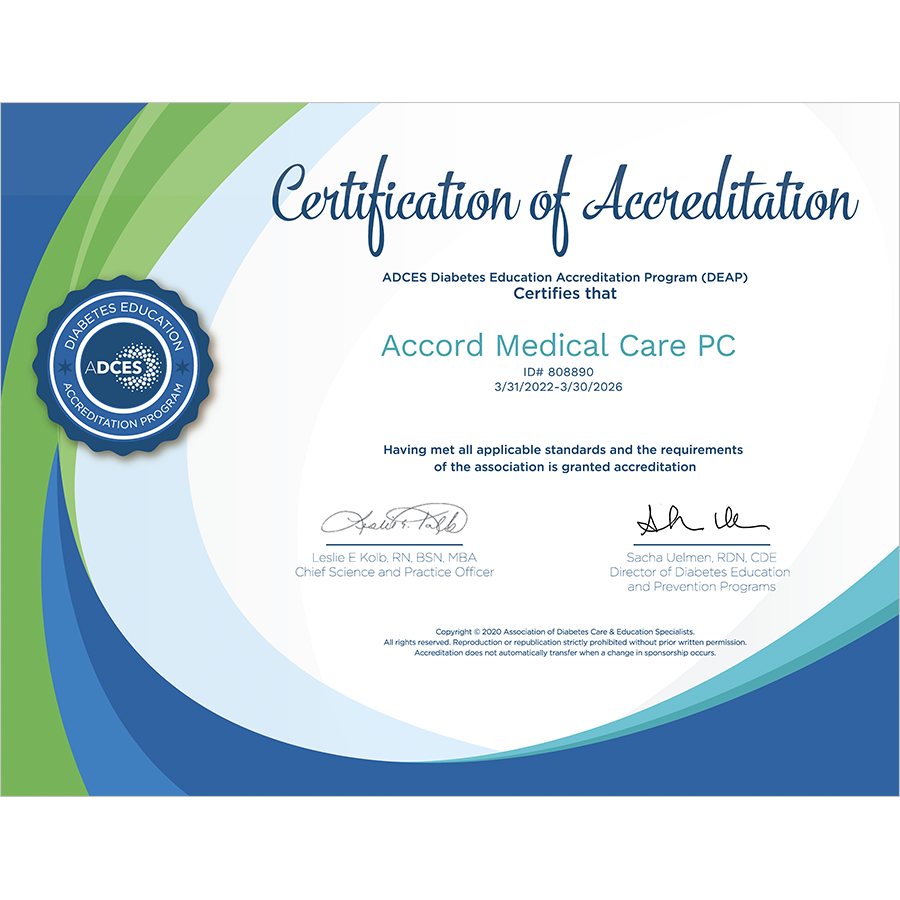 CAIPA Receives Certification of Accreditation for DSMES Program
The accredited DSMES is the first culturally and linguistically program tailored for Chinese-American Patients in New York City
NEW YORK – April 2022 – Recognized for its Diabetes Self-Management Education and Support (DSMES) program, Accord Medical Care PC, a subsidiary of CAIPA Care, is now officially accredited from March 2022 to March 2026 by ADCES, one of the two National Accrediting Organizations (NAO) approved by Centers for Medicare and Medicaid Services (CMS) to accredit entities that furnish DSMES services.  Furthermore, the certification places this specific program in an unprecedented position as the first Chinese (Mandarin and Cantonese) accredited DSMES in all of New York City.
According to the CDC, Asian-Americans are 40% more likely than non-Hispanic whites to be diagnosed with diabetes. Asian-Americans were also more likely to be diagnosed with complications related to diabetes. For example, Asian-Americans are 60% more likely to be diagnosed diabetes-related end stage renal disease than non-Hispanic whites.
CAIPA is dedicated to developing culturally competent programs, such as DSMES, to service its target patient population. Evidence shows that Chinese and Koreans with diabetes in New York City had poorer diabetes management practices compared to Black and Hispanic populations.  "To address these disparities, CAIPA team recommended culturally and linguistically tailored efforts that promote awareness and self-efficacy of diabetes self-management, including community-based educational interventions. Furthermore, allied health professionals, such as community health workers, health educators, and trained interpreters, could help support the physician workforce in encouraging diabetes self-management practices among these patients," said Dr. George Liu, President & CEO of CAIPA.
Vivien Hui, MS, RD, CDN, CDCES, CPC, Director of Diabetes Disease Management of CAIPA who oversees its full operation, added, "Asian American subgroups were less likely than Black and Hispanic groups to receive recommended physician-led management practices which pointed to the need for provider-and health care system-level interventions. Efforts are given to cultural competency trainings for providers; the integration of health coaches and other allied health professionals into health care teams to facilitate communication and referrals between primary care providers, specialists, and patients."  Vivien also pointed out the importance of linguistically appropriate educational materials as an integral part of diabetes care for Chinese-Americans.
The DSMES program is the first of its kind, and CAIPA is committed to continue to invest and innovate in chronic disease management programs as it expands its population health and integrated care model as part of its value-based infrastructure.